David Scott lives in Dinorwig overlooking Llyn Padarn with his wife and four girls.
Lately I am exploring the mood different colour can induce in a person and how it can appear to move and change when manipulated. I am working towards a goal of making paintings directly conjure a mood and emotional response with the added challenge of pulling off an intellectual coup of reversing the natural order of recession and advancement of cool and hot colours. As an example look at Cool Breeze (see below) it is an 4 foot square painting and has a presence in a room, if you look at it for any length of time it starts to move, the coolest colour in the painting is right in the centre and I have tried to make it the hottest using the shape and volume of the surrounding colours. Essentially I have tried to set an ice blue on fire!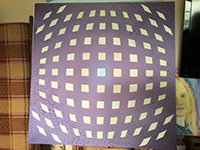 I Studied Art at Colleg Menai under Peter Prendergast and have enjoyed painting since childhood. Always interested in colour and in particular vibrating colours. I have had a varied career path including running pubs, wine merchants, set design and prop making, landscape gardening, designing for print and web and time as a general builder.